| | |
| --- | --- |
| • | Versatile: The KMI Sea-Lift is the most versatile machine of its type in the world, capable of safely carrying most hull types including catamarans, displacement, flat, sailboats and planing. |
| • | Fastest in the world: In less than 60 seconds, the Sea-Lift can have boats lifted and out of the water! See video. |
| • | Increases Revenues: Because the Sea-Lift is able to place boats within inches of each other, not feet, revenues are increased. |
| • | Maneuverable: Steering drive wheels turn 180 degrees for outstanding maneuverability and safety. |
| • | Shape Conforming Air-Bunk Support: This unique feature actually carries the vessel on air! |
| • | Lifts higher: Sea-Lifts are able to lift a boat up to 16 feet or nearly 5 meters above the ground. With the locking hydraulics, this also allows for easy pressure washing and quick under-hull work. |
| • | Patented Center Hinge: The patented center hinge allows for launches and hauls in shallower water. |
Our company is new in operation, just putting up a new Marina and Storage facility outside of St. Petersburg, Russia. This means we had no equipment at all, no old equip...
READ MORE »
News

First Sea-Lift in Australia
Australia's Gold Coast Marine Centre (GCMC) has purchased a new Sea-Lift self-propelled submersible lift that can haul out boats up to 24m long with o...
READ MORE »
Video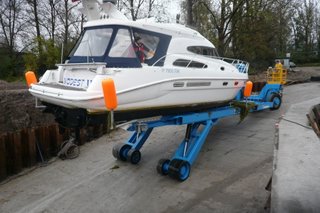 Amazing 60 Second Haulout!
See Video »